Storage and support
As the snowy winters approach, it's essential to prepare our outdoor furniture for the coming months. Proper protection will ensure the longevity of your pieces, preserving their beauty for future seasons. Here are some crucial tips for storing your outdoor furniture during winter.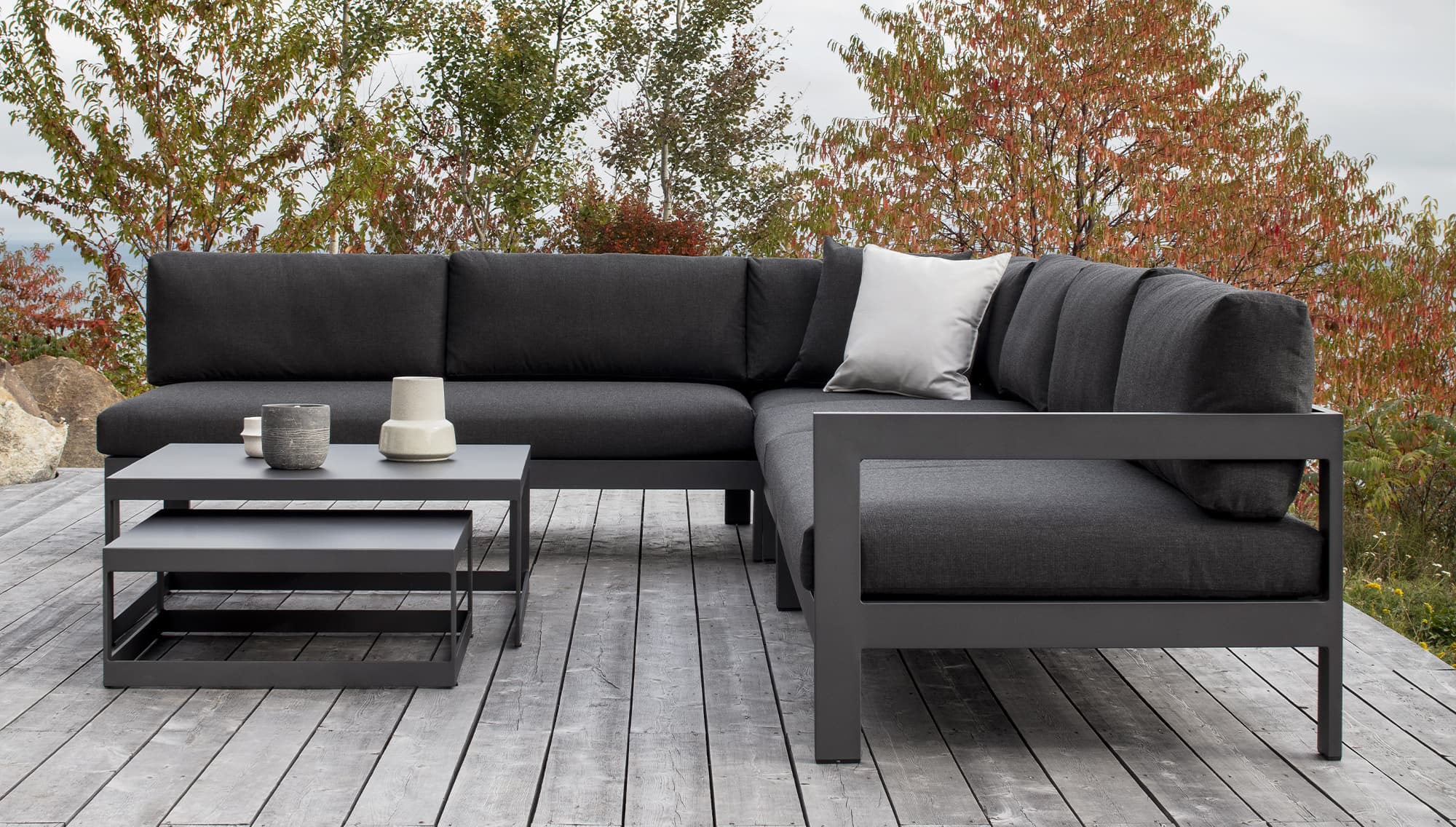 Pavilions
Remove your pavilion cover and curtains. These can easily get damaged under the weight of accumulated snow. Prior to storing, wait until they're completely dry, as trapped moisture can lead to mold. Store them carefully in a dry place, protected from the elements to prevent potential wear.
Cushions
Furniture cushions, while designed to withstand the weather, will maintain their shape and appearance longer if stored indoors during the winter months. Place them in a dry and safe location to shield them from moisture and mold.
Furniture
If you cannot store your furniture indoors , we suggest putting wooden blocks or bricks under the legs to prevent water infiltration, which could eventually lead to damage from freezing. (Please note that freeze damage is not covered by any of our manufacturer's warranties.) Next, use covers or tarps to protect your furniture and make sure they fit snugly to prevent any water from getting in. Covering your furniture in the winter is the best way to extend its use and reduce the impact of exposure to the elements.
TABLES
For dining tables, it's best to store the tabletop indoors, if possible. Otherwise, take care to cover them carefully using waterproof covers. It's crucial to make sure no heavy objects rest on the tabletop. The pressure from snow and ice can be substantial, so it's important to regularly remove snow to prevent buildup. An alternative method is to place balloons on your tabletop prior to covering it, creating a natural slope that will prevent snow and water accumulation.
Teak
Read on for how to store your teak furniture during the winter season.
Before storing your teak furniture for winter, clean it thoroughly to remove any dirt, dust, or residue. Use a soft brush and soapy water to clean the wood surface, avoiding high-pressure cleaners that can damage it.
Ensure the furniture is completely dry before storing it. Trapped moisture can lead to mold and wood deformation.
Unlike other types of furniture, it is not recommended to cover teak furniture during the winter. Tarps can trap moisture, creating conditions conducive to mold and rot. Instead, leave the furniture uncovered in a dry area.
When storing your teak furniture indoors, avoid placing it near direct heat sources like radiators, as rapid temperature changes can cause cracks in the wood.
Our partners
We offer expert services for the removal and repair of your pavilion's canopy, as well as a professional solution for storing your furniture.
Nettoile
Pavilion Care

From curtain and canvas removal to storage, cleaning and repairs, our partner Nettoile offers you peace of mind with top-to-bottom care for your pavilion!

Quebec Residents
1 888-871-2623
info@nettoile.com
www.nettoile.com
Lane McKenzie
Pavilion Care

Offering curtain and canopy removal services, Lane Mckenzie gives you peace of mind and premium care for your pavilion!

Ontario Residents
905 979-8025
mckenzie.lane@gmail.com
Vincent Beaudin
Furniture Storage

Running out of space? Opt for a turnkey storage solution. Beau Patio will pick up your furniture, store it for the winter and return it just in time for spring! Teak restoration and furniture cleaning services are also available.

Quebec Residents
514 622-1489
beaupatio@gmail.com
www.beau-patio.ca